UK leaders in delivering workplace
Disciplinary

Investigation Services

A robust, fair and timely disciplinary investigation is a vital part of a fair workplace disciplinary procedure. We offer the highest quality service to ensure that your employees are fairly dealt with, for minimal risk of unfair dismissal claims.

Get in touch
Ensure your disciplinary investigations are thorough and proportional
Workplace Disciplinary Investigation Services and skills Training Delivered across EMEA
With over 30 years' experience, CMP are UK leading experts in conducting disciplinary investigations at work. All of our disciplinary investigators undergo a thorough recruitment process to ensure that we only supply the most able and experienced practitioners. We understand the damage to organisational brand, reputation and finances that unfair dismissal claims can bring. When outsourcing your disciplinary investigation to CMP, you'll keep the risk of such damages to an absolute minimum.
How we conduct workplace disciplinary investigations
When conducting a workplace disciplinary investigation, we understand that a lot is at stake for both the individuals involved and your organisation. For that reason, we will be as thorough as possible, by interviewing all relevant witnesses and obtaining all available evidence.
The structure of our Disciplinary Investigation procedure is as follows:
Within 1 working day, we'll assign an Investigator to your case, with specific experience in conducting disciplinary investigations within your sector.
Our assigned investigator will then start conducting a disciplinary investigation for you, firstly through arranging an initial scoping.
Our investigator will produce a Terms of Reference final scoping which will be sent to the case commissioner for approval.
The interviews will then commence, with summary notes taken. Each party will then be sent the notes, with a chance to add to/ amend, before they are used as evidence.
Our Investigator will then analyse the interview records, alongside all other available evidence.
The Investigator will then write a comprehensive disciplinary investigation report, summarising the evidence which has been deemed to be factual and (if required) provide an assessment or recommendation for subsequent disciplinary action.
All our disciplinary investigation reports are quality assured by our internal office team prior to being sent back, to ensure the highest possible standards.
We will submit our completed report within 30 working days of the initial referral and arrange for a debrief meeting between our investigator and referring manager for a discussion of the findings.
Through our 30 years' experience in conducting disciplinary investigations, we have developed a highly accurate scoping system, whereby 90% of our cases are completed within the initially quoted scope. Over three quarters of our business comes from existing clients, who trust us to handle their most serious cases. Throughout the process of the investigation, we provide clear communicative transparency, having invested in the very best available case management software.
Get in touch
Refer a disciplinary case for investigation
Undertaking investigations into disciplinary matters is incredibly timely and takes management time away from other core functions. No matter how competent your mangers are, if they are not well trained and practised in conducting disciplinary investigations, the process may be of low quality, making you more vulnerable to unfair dismissal claims.
CMP have an expert pool of investigators, many of whom specialise in conducting disciplinary investigations. When working with us, we can prioritise your case and decrease the end-to-end timescale. An external investigator creates the highest possible perception of impartiality to ensure your employees feel they have been dealt with fairly. We are flexible in our approach to report-writing and can offer a simple fact-finding report, with or without a subsequent recommendation or decision for disciplinary action.
Get in touch
Contracted Workplace Disciplinary Investigation Services
Organisations who set up a contract for disciplinary investigations with CMP are simply able to pick up the phone or send an email to have a complaint investigated straight away by our dedicated team. When setting up a contract, we'll take the time to familiarise our team with your organisation and its disciplinary procedures such that we conduct our disciplinary investigations in line with your internal policies and procedures.
You'll receive the highest quality service, meaning all records and reports are consistent, in line with CMP's quality assurance principles and best practice standards. Our consistent approach means that we can also identify any emerging issues over time that may reflect a more widespread problem within your organisation.
Get in touch
CMP White Papers
Resources & Further Reading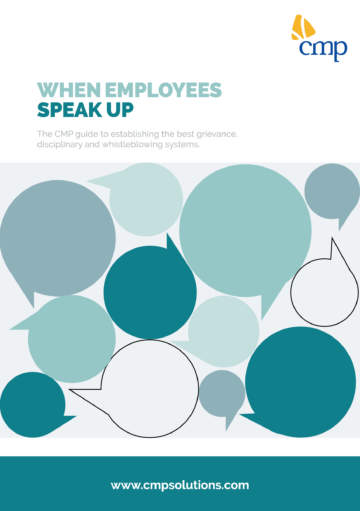 The CMP guide to establishing the best grievance, disciplinary and whistleblowing systems.
Download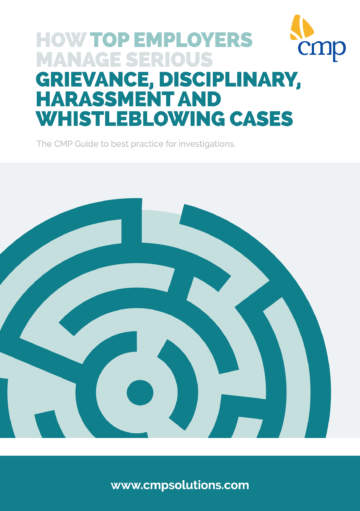 The CMP Guide to best practice for investigations.
Download
The UK's leading independent provider of
Workplace Relationship Management & Dispute Resolution Services
Our ambition is to create workplaces where people can really be authentic, bringing their 'whole self' to work, without the fear of conflict.
CMP is a pioneer of approaches to manage and improve workplace relationships – a prime mover in the development and adoption of professional approaches to mediation, investigation and Conversational Integrity.
Read More