Over 30 years' experience in delivering
Workplace
Discrimination

Investigation Services

Being treated unfavourably at work in relation to being a member of a protected group is unlawful under the Equality Act 2010. When complaints are made, it is crucial that you react quickly, by conducting a thorough discrimination investigation. Working with CMP ensures the highest chances of a fair outcome, whilst demonstrating that you will not tolerate discrimination in the workplace.

Get in touch
Ensure you take complaints of discrimination seriously, by outsourcing your case
UK Leaders in investigating discrimination in the workplace
Thanks to our 30 years' experience, CMP are the UK's leading discrimination investigation provider. We only recruit the most highly skilled and qualified investigators to our pool, with a minimum of 5 years' experience in carrying out discrimination investigations. When you outsource an investigation to us, we'll assign a practitioner to your case within 24 hours. We always hand pick an investigator based on your sector, location and case specifics.
What happens as part of a CMP Discrimination Investigation?
The aim of a discrimination investigation is, in short, to establish whether the complainant has been treated less favourably to others, based on their membership of a protected group. There are currently 9 protected characteristics, upon which a protected group may be formed. On that basis, a behaviour can therefore be judged as discrimination if the complainant has been treated unfairly due to their:
Age, Disability, Gender Reassignment, Marriage/ Civil Partnership status, Pregnancy/ Maternity, Race, Religion/Belief, Sex or Sexual Orientation.
When we are investigating discrimination in the workplace, we find and present evidence for:
How the complainant alleges that they have been treated differently to others in similar circumstances and, if so, what possible reasons there might have been for that difference in treatment
Whether the complainant has been treated less favourably than others
Whether there are facts from which it could be concluded that the difference of treatment was related to the complainant being a member of a protected group
Whether there are reasons other than being a member of a protected group that could justify the difference in treatment
Once one of our investigators has been assigned to your case, they will arrange for an initial meeting with you as soon as possible. The purpose of this is to finalise the scope and agree a terms of reference for the case. Interviews will then commence within 5 working days of completing the scope, during which we ensure to interview all relevant witnesses such that all available evidence can be reviewed. A comprehensive report will be produced after all evidence has been obtained, which, subsequent to our internal quality assurance processes, will be submitted within no more than 30 working days of commencing the investigation.
Our highly accurate scoping system means that 90% of our discrimination investigations are completed within the initially specified scope. Unlike other providers, we will only ever bill for work that has been completed, and always keep you informed in the rare instances that extra time may be needed.
Get in touch
Refer a discrimination case for investigation
We believe that outsourcing your discrimination investigation to an expert independent provider is the best way to ensure your case is conducted in a fair, robust and timely manner. There are a variety of reasons why our clients decide to work with us, the most common of which are as follows:
When the internal staff who usually conduct investigations are too busy, or unavailable.
When complaints are made against a senior person, and HR aren't seen as suitably qualified to investigate.
When complaints are highly complex, and would take a huge amount of internal time to complete.
For small organisations, without an experienced HR resource.
For every case we receive, we'll do all that we can to provide a best-matched investigator to your case based on your sector, location and specific nature of the complaint. With a large pool of investigators situated across the UK, we offer a nationwide coverage with the fastest possible response time. We also conduct investigations across EMEA and if feasible and appropriate can utilise remote interviewing.
Get in touch
Contracted Workplace Discrimination Investigation Services
For organisations looking to remove the internal burden of handling their discrimination investigations (and all other cases) we can develop a contractual arrangement with you. When doing so, you'll be able to have all of your cases investigated by CMP, with the quickest possible response time. We'll negotiate a favourable rate with you, based on your specific needs and annual caseload, providing a significant saving on our standard day rate.
As part of the contract setup, we will always recommend an initial meeting whereby our investigators can become familiar with your organisational structure, policies and culture. This will enable us to provide a consistent approach to handling all of your cases, whilst enabling your internal staff to remain focused on their existing duties.
Get in touch
CMP White Papers
Resources & Further Reading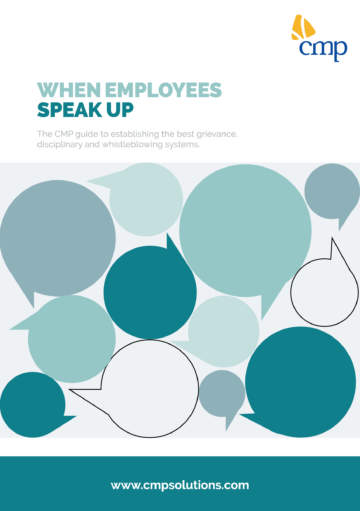 The CMP guide to establishing the best grievance, disciplinary and whistleblowing systems.
Download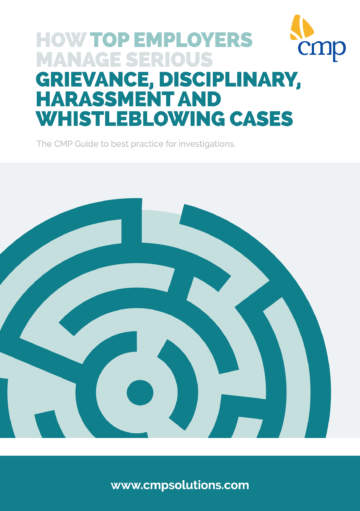 The CMP Guide to best practice for investigations.
Download
The UK's leading independent provider of
Workplace Relationship Management & Dispute Resolution Services
Our ambition is to create workplaces where people can really be authentic, bringing their 'whole self' to work, without the fear of conflict.
CMP is a pioneer of approaches to manage and improve workplace relationships – a prime mover in the development and adoption of professional approaches to mediation , investigation and Conversational Intelligence.
Read More