From the UK leaders in workplace conflict management
Independent Inquiry

Services

When workplace complaints are anonymised; or when you realise something isn't right, but require more evidence, an independent inquiry should be carried out. All our independent inquiries are delivered by highly experienced professionals with an in-depth knowledge of the subject matter required. CMP have experience of inquires into systemic bullying, harassment, institutional racism and homophobia.

Get in touch
Ensure you establish the facts, such that appropriate actions can be taken
Expertly conduct an independent inquiry into suspected individual or company-wide issues
An Outsourced Independent Inquiry into workplace issues
We have an active pool of over 50 expert investigators who deliver our independent inquiry services for a variety of organisations across all sectors. This means that when deciding to work with us, we provide a best-matched professional, with experience in your sector, who can commence work within 24 hours.
Working with an external provider communicates and provides the highest possible levels of impartiality, whilst ensuring a timely, thorough and robust assessment. On completion of the inquiry, your assigned investigator will provide a comprehensive fact-finding report, which (if required) can also make an assessment against your relevant internal policies and recommended action.
Workplace issues for which we can conduct an independent inquiry include:
– Systemic Bullying and Harassment
– Discrimination and Institutional Racism
– Whistleblowing concerns
– Ethics/ compliance issues
– Serious incidents
– and more…
Get in touch
Neutral Assessment Services
When a group is in conflict or performance is poor, there may be hidden tensions or specific difficulties which have resulted in grievances and complaints. A Neutral Assessment is an informal process, aimed at identifying and exploring how the situation has arisen, through understanding the perspectives of the individuals involved.
The process provides the opportunity for your employees to voice their concerns and feel heard, whilst generating possible actionable solutions to tackle any problems. Typically, a Neutral Assessment may be the best solution, when:
– A problem is evident but you're unsure how to handle it
– You are unsure a formal investigation is needed, but something needs to be done
– Concerning behaviours are preventing people working effectively, but it is difficult to identify the key perpetrators
– Poor practices may be widespread and hidden, but employees aren't aware of their wrongdoing
Upon completion of the process a 'no-blame' report shall be compiled, to summarise the information gained through participant interviews, in an anonymous manner.
Get in touch
CMP White Papers
Resources & Further Reading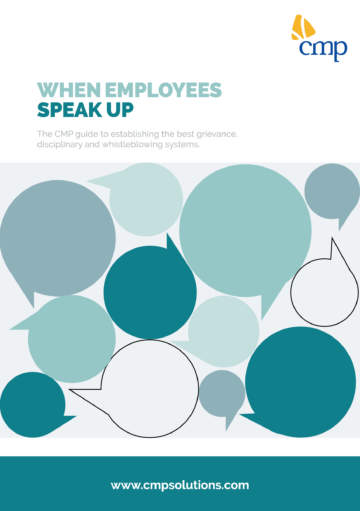 The CMP guide to establishing the best grievance, disciplinary and whistleblowing systems.
Download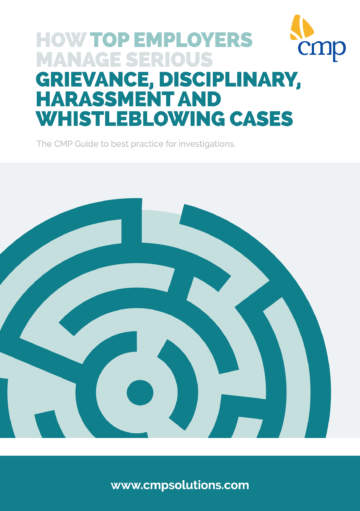 The CMP Guide to best practice for investigations.
Download
The UK's leading independent provider of
Workplace Relationship Management & Dispute Resolution Services
Our ambition is to create workplaces where people can really be authentic, bringing their 'whole self' to work, without the fear of conflict.
CMP is a pioneer of approaches to manage and improve workplace relationships – a prime mover in the development and adoption of professional approaches to mediation, investigation and Conversational Integrity.
Read More