Investigation expertise and training
Resolve

GRIEVANCE, DISCIPLINARY, WHISTLEBLOWING AND COMPLIANCE CONCERNS

Serious workplace and student complaints, bullying, harassment and whistleblowing need watertight processes and professional handling. We deliver the expertise needed to resolve cases as fairly, robustly and timely as possible.

Get in touch
Investigation services and training across the EMEA
ENSURE YOU'RE TAKING THE PROFESSIONAL APPROACH
How we help
When there are tangles of claims and counter-claims – sometimes including the senior team – organisations need to demonstrate the highest levels of professionalism. Increasingly, the world is watching.
CMP has been carrying out workplace investigations on behalf of employers for 30 years into compliance and whistleblowing issues, complaints and grievances, bullying and harassment, and more. Our experience has made us the UK's leading provider. We have an established network of highly experienced investigators, based in locations across the UK, who will deliver a fair, robust and quality service in line with legislation and best practice.
Get in touch
Contracted Investigation Services
Involving independent investigators means reducing the risk of mishandled cases and reliance on senior managers and HR for time-consuming tasks, particularly during periods of major organisational change. CMP's experts work to consistent standards and processes. They're able to encourage more trust and willingness to participate among employees, and allow a resolution to be reached more quickly. Critically, using an independent investigator limits the potential for failure at appeals and the risk of claims being escalated into formal employment tribunals.
Get in touch
Refer a case
The most serious and complex investigations – such as workplace grievances, bullying or harassment – demand a sensitive and rigorous approach, for the sake of the individuals involved and the organisation. Using a CMP investigator provides the reassurance that you are working with the UK's leading provider. Investigation cases are typically resourced within 2 days and completed in a timely manner, to limit disruption and stress for all involved.
Get in touch
Investigation Skills Training
Our 'Professional Workplace Investigator' programme is endorsed by the ILM and is led by highly experienced workplace investigators, drawing on their hands-on work in organisations.
The course equips staff with all they need to carry out any type of internal investigation, from grievance, bullying, harassment and disciplinary investigations to whistleblowing concerns. The course has also been adapted to train investigators conducting sector-specific investigations; such as student complaints as well as serious incidents and 'never events' in health and social care.
Get in touch
CMP White Papers
Resources & Further Reading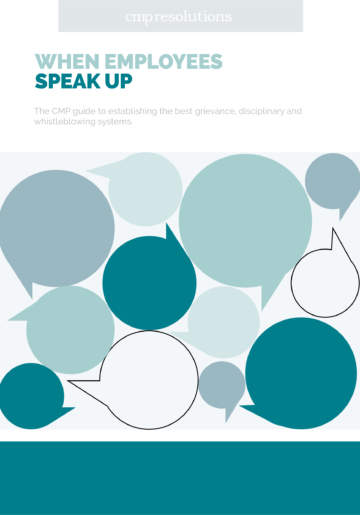 The CMP guide to establishing the best grievance, disciplinary and whistleblowing systems.
Download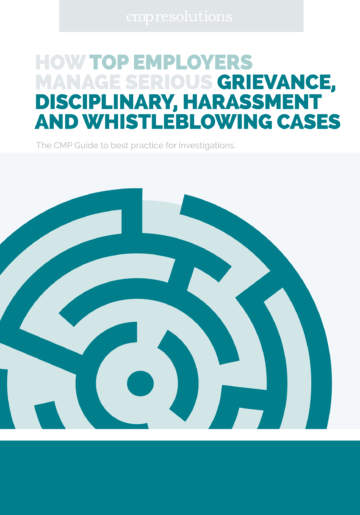 The CMP Guide to best practice for investigations.
Download
The UK's leading independent provider of
Workplace Relationship Management & Dispute Resolution Services
Our ambition is to create workplaces where people can really be authentic, bringing their 'whole self' to work, without the fear of conflict.
CMP is a pioneer of approaches to manage and improve workplace relationships – a prime mover in the development and adoption of professional approaches to mediation , investigation and Conversational Intelligence.
Read More