Learn to prevent workplace conflict from escalating
Workplace Mediation training courses

delivered by expert practitioners with extensive experience

As the UK's leading provider of mediation training, we fully understand the principles of mediation and its benefits in the workplace. There is such great value in resolving differences between colleagues as quickly as possible. We'll provide a thorough understanding of the principles of mediation and develop the mediator skills needed to succeed.

Get in touch
A wide range of programmes available to match your unique needs
Undertake workplace mediation training with CMP, to gain a practical understanding of the ethics and practice of mediation.
All CMP trainers are practicing Mediators, so have a current knowledge of the issues that mediators face daily. We offer a range of mediator training options, ranging from basic mediation skills development to accredited courses and advanced programmes.
Why undertake mediation skills development with CMP?
CMP was one of the early pioneers of workplace mediation skills and conflict management at work. Today we have trained over 5000 workplace mediators, which equates to more than 200 a year over the last two decades. Our company ethos is to help businesses get more out of their people by better managing conflict at work. Mediation helps prevent conflict from escalating to formal resolution procedures.
We're are active members of relevant industry bodies. Our workplace mediation training is accredited by the College of Mediators as well as the Institute of Leadership and Management (the ILM). We have been an investor in people since 2000. We will take the time to get to know your organisation, and tailor the mediator training accordingly.
CMP trainers are all hugely experienced mediators, with an active caseload and at least 10 years experience of professional mediation practice. There is no question they can't answer or mediation skill they cannot demonstrate within your training programme.
With your training, we'll include all the support you need to get the most out of your workplace mediation training investment. We understand that although your mediators may feel ready to mediate after their CMP training, they will always come across situations that challenge their skills. For this reason, we include 12 months' telephone and email support at no additional cost.
Get in touch
Introductory Level Mediator training Courses and Workshops
Our Introduction to Mediation workshops and courses range from 2 hours to a full day. We'll help trainees to understand when and how mediation at work can be used effectively. You'll see a sample of key skills for effective conflict management, whilst exploring the benefits and risks of mediation.
We also offer a Mediation for Managers training course. There is a wide recognition that managers need to develop mediation skills, yet few have had structured training in dispute resolution. This will support managers to be able to step in early and confidently when conflict arises and take a mediation style approach to help support their teams.
Get in touch
ILM- accredited workplace mediation training courses
Our flagship, ILM endorsed Professional Workplace Mediator training course is run as a 6-day programme. It can be delivered in-house for groups of 4 delegates or more. We also offer this program as a public course, for individuals and small groups of trainees. This mediator training course provides delegates with all the skills needed to mediate formally and handle most cases in house.
Participants in our accredited mediation training courses will develop a theoretical understanding enabling them to implement mediation in the workplace. It will involve the practice of core skills that are essential to mediation and provide a focus on how to adapt to individual differences. Each participant will receive personalised coaching, mentoring and feedback throughout their training. We also offer shorter accredited programmes.
Get in touch
Mediator Development Courses
Our Advanced Mediation Skills Training course is suitable for experienced workplace mediators who want to deepen their mediation practice. Delegates will strengthen and deepen their ability to work with complex, positional and difficult conflicts. More sophisticated and effective interactive mediator skills will be practised.
We also offer a range of unique mediation training programmes, aiming to help develop existing skills to work with specific scenarios. We offer mediation courses to help carry out mediations with parties who have mental health difficulties or disabilities. We also support mediators in developing skills to manage union presence and to support those in educational settings and involving homelessness.
Get in touch
CMP White Papers
Resources & Further Reading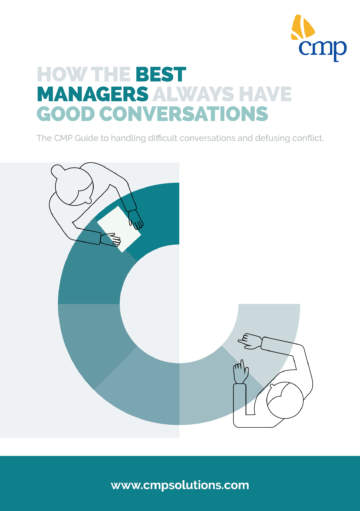 The CMP Guide to handling difficult conversations and defusing conflict.
Download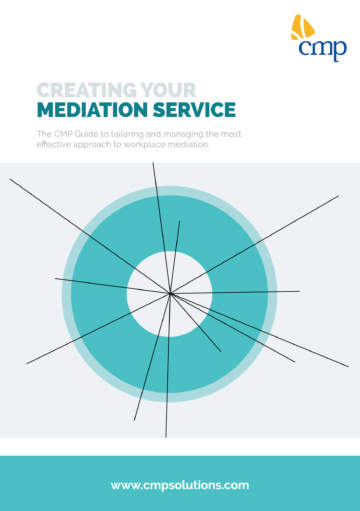 The CMP Guide to tailoring and managing the most effective approach to workplace mediation.
Download
The UK's leading independent provider of
Workplace Relationship Management & Dispute Resolution Services
Our ambition is to create workplaces where people can really be authentic, bringing their 'whole self' to work, without the fear of conflict.
CMP is a pioneer of approaches to manage and improve workplace relationships – a prime mover in the development and adoption of professional approaches to mediation, investigation and Conversational Integrity.
Read More