Highly experienced and professional handling of
Workplace
Sexual Harassment

Investigations

Complaints and allegations of sexual harassment are high profile and can carry significant reputational risk. By outsourcing your case to CMP, you'll receive a sexual harassment investigation of the highest standard, with an empathy to the emotional stress involved. In doing so you'll not only ensure that your employee's complaints are dealt with in a fair and timely manner, you'll also minimise any threat to your brand, finances and reputation.

get in touch
Ensure you respond in a timely, robust and empathetic manner while minimising organisational risk
Workplace sexual harassment investigation services and training tailored to your needs
How we help
The handling of sexual harassment complaints in the workplace can be complex, involving tangles of claims and counter-claims. Sometimes these may involve senior staff, making such allegations increasingly challenging. We believe staff investigating sexual harassment complaints need to demonstrate the highest levels of professionalism. With increasing awareness-raising and media campaigns, fair treatment is simply critical.
CMP has been carrying out workplace sexual harassment investigations on behalf of employers, within higher education and the wider public sector, for 30 years. Our experience has made us the UK's leading provider. We have an established network of highly experienced investigators, based in locations across the UK, who will deliver a fair, robust and quality service in line with legislation and best practice.
When conducting a sexual harassment investigation, we'll assign an investigator to your case within one working day, who will meet with you to create a final scope and terms of reference. The first interview will commence within 10 working days, and you can expect to receive a comprehensive, quality-assured report no later than 30 working days after making the referral.
When we investigate sexual harassment at work, we establish and present evidence for:
Whether the conduct complained of related to the complainant's protected characteristic
Whether the conduct was unwanted by the complainant
Whether the conduct had the purpose of violating the person's dignity or of creating an intimidating, hostile, degrading, humiliating or offensive environment for the person – or as described in the client's policy
Whether the conduct had the effect of violating the person's dignity or of creating an intimidating, hostile, degrading, humiliating or offensive environment for the complainant – or as described in the client's policy
If the conduct had that effect, taking into account all the circumstances of the case, including the complainant's perception, whether it was reasonable for the conduct to have had that effect
Where not dictated by the client's own policy, findings for sexual harassment investigations are made using one of the following outcomes:
Upheld; Upheld in part; Not upheld due to insufficient evidence; Not upheld; The allegations are vexatious and malicious
Get in touch
One-off Investigations into Sexual Harassment in the workplace
When outsourcing your sexual harassment investigation to CMP, you have the reassurance that you are working with the UK's leading provider. We'll assign you an investigator who is highly experienced in carrying out investigations into sexual harassment complaints. All of our investigators are experts with many years' experience, and we'll always endeavour to provide a practitioner who has previously worked within your sector. Our sexual harassment investigations are completed in a timely manner to minimise stress and disruption for all involved.
Studies report that half of British women and a fifth of men have experienced sexual harassment at work. There is also an increasing concern surrounding sexual harassment amongst students. Such incidents can include sexual comments, offensive jokes, sharing of explicit material, unwanted contact and sexual assault. It is crucial that your organisation establishes a barrier between what is acceptable, and what is not. A comprehensive investigation when an issue is raised is just one of many steps that all forward-thinking organisations should take to ensure they are effectively dealing with sexual harassment complaints, and developing robust policies and procedures.
get in touch
Call-off Contracts for dealing with sexual harassment complaints
Sexual harassment complaints can often be complex, sensitive or high-risk. When so much is at stake, including the reputation of senior staff and your organisation, it makes sense to have the investigation carried out independently by an experienced pair of hands. Our highly experienced investigators will complete the process in a timely, comprehensive manner, saving you both money and time, in comparison to an internal procedure.
We work with many large organisations, who have a high volume of complaints to be investigated. Smaller organisations also benefit from call-off contracts, as they may lack the HR support/ experience needed to investigate, or their leaders may know the involved parties too closely to remain impartial. Our investigators are experienced in investigating sexual harassment grievances across a range of organisations. When working with you as part of a long-term contract, we can also report emerging issues that require attention to you, providing further value to your organisation.
Get in touch
CMP White Papers
Resources & Further Reading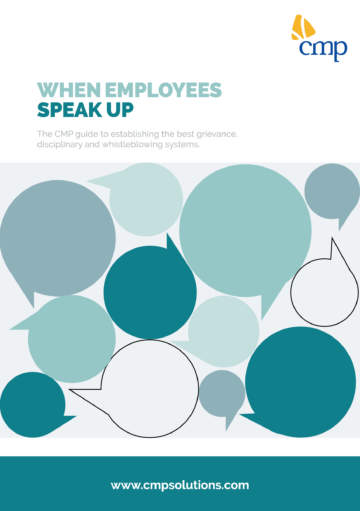 The CMP guide to establishing the best grievance, disciplinary and whistleblowing systems.
Download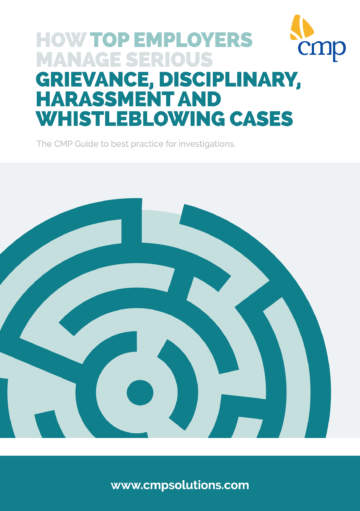 The CMP Guide to best practice for investigations.
Download
The UK's leading independent provider of
Workplace Relationship Management & Dispute Resolution Services
Our ambition is to create workplaces where people can really be authentic, bringing their 'whole self' to work, without the fear of conflict.
CMP is a pioneer of approaches to manage and improve workplace relationships – a prime mover in the development and adoption of professional approaches to mediation, investigation and Conversational Integrity.
Read More